Dr David Jefferson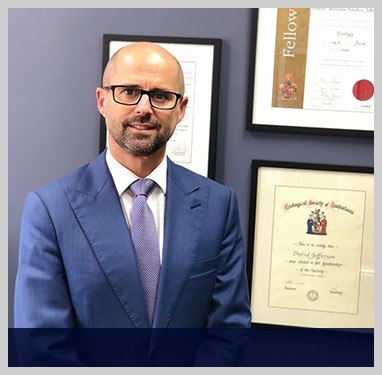 Dr David Jefferson is a consultant urological surgeon with over 12 years of extensive experience. After completing his Urological training in NSW in 2002, he completed a fellowship at Monash Medical Centre in Victoria in Urological Oncology, as well as helping to establish Laparoscopic Renal Surgery in that centre.
As well as being highly experienced in the general Urology, he also has specialty interests in:
Urological Oncology including prostate, renal, bladder and testis cancer
Laparoscopic surgery
Benign prostate enlargement
Stone disease of the urinary tract including laser treatment of renal stones
Male incontinence investigation and surgery – AdVance and ATOMS slings, Artificial Urinary Sphincter (AUS)
Erectile dysfunction investigation and treatment – medical therapy and Penile Prosthesis
Vasectomy
Dr Jefferson prides himself in providing high quality care for all his patients, with the best possible functional and oncological outcomes using the latest technology, and is currently undertaking advanced training in robotic surgery for prostate cancer, renal cancer and complex reconstructive renal surgery. This along with his cultural awareness sees him well liked by all his patients of all ages and backgrounds.
His practice encompasses both the public and private sector.